Please note: answers are subject to change based on state mandates and local conditions. However, these are the answers as of the current date. As new information becomes available to the schools, we will update these answers.
A Quote from the American Academy of Pediatrics, "COVID-19 Planning Considerations: Guidance for School Re-entry"
"The AAP strongly advocates that all policy considerations for the coming school year should start with a goal of having students physically present in school
. The importance of in-person learning is well-documented, and there is already evidence of the negative impacts on children because of school closures in the spring of 2020. Lengthy time away from school and associated interruption of supportive services often results in social isolation, making it difficult for schools to identify and address important learning deficits as well as child and adolescent physical or sexual abuse, substance use, depression, and suicidal ideation. This, in turn, places children and adolescents at considerable risk of morbidity and, in some cases, mortality."
Since we can not use our own backpacks can we customize with patches and stuff the student likes?
Students will be given a "luggage tag" with an ID badge they create/draw. However, if students would like their monogram added to the backpack, school mascot, etc., this is fine. HOWEVER, you must get anything other than monogram or school mascot image approved by your principal. And please remember, any image deemed inappropriate or controversial will have to be removed at your expense.
1. What will be the COVID-19 testing protocols for students, staff, visitors, etc.? Schools will not be responsible for testing for COVID-19. Students and staff suspected of COVID-19 will be referred to their regular doctor/ADPH or local testing center.
2. If someone in the school community tests positive, what will be the next required steps? Will schools need to be closed for deep cleaning? Who does that cleaning? What will be the requirements for contact tracing and testing? How long will staff or students need to be quarantined, if at all? Once someone in the school community test positive for COVID-19 the parents and other contacts will be notified of the occurrence. The Alabama Department of Public Health will be notified for guidance and recommendations depending on the student's grade level and where the student may have been in the school. The areas that the student has been in will need to be cleaned by the janitorial services using CDC guidelines and the student will be required to quarantine for no less than 14 days and can return to school with a doctor's note. Contact tracing and testing will be the responsibility of the ADPH.
3. If school has a positive case, how long will a closure be to ensure there's no super-spread to a community? The Marengo County Schools will follow the recommendations of the ADPH and the CDC for schools at the time of the occurrence.
4. What are the specifications for the isolation rooms? Isolation rooms located inside the schools will be separate from the regular nurse's office. Each isolation room will have separate divided areas for student to stay while waiting on their parent/guardian to pick them up.
5. Will there be standardized screening protocols for staff and students entering buildings? If so, who will do that? What forms will be used, etc. (can attach to appendix in our plan) There will be no standardized screening protocol for staff and student's. We will rely on staff and parents to self report any signs or symptoms of COVID-19 or risk factors. This may change as the recommendations from the ADPH and CDC change.
6. Should we require a test for any student or staff exhibiting symptoms? Yes, if a student or staff member is exhibiting symptoms, they must see a doctor for further evaluation and recommendations and may return to school with a doctor's clearance.
7. Will we need to limit the number of students in health offices at one time? Will we need separate areas for first aid? If so who will cover that and with what certificate? Yes, we will limit the number of student's in the health office and require them to enter one at a time. This will be done by using the door bell and locking the door and only allowing entrance when unlocked by the nurse. First Aid situations will be taken care of in the classroom by the teacher(if minor) or by the nurse if the teacher feels that the nurse needs to assess the situation.
8. What do you recommend that break look like? Break can be held outside when feasible and can proceed as usual while encouraging social distancing.
9. As fall brings illnesses such as the flu, respiratory infections, and whooping cough, will modifications be required to medical exclusion policies? ???????
10. Will there be standard return to school policies and procedures for students and staff who are presumed positive or diagnosed with Covid-19? Students and staff must bring a clearance note from their healthcare provider stating that they have met all of their medical requirements and are clear to return to school.
11. How will we provide for mental health supports that may be needed for both students and staff that have experienced trauma due to the loss of family members, isolation, suicidal ideations, food insecurity, loss of income, loss of housing, etc? Marengo County School System will utilize our school counselors, school nurses and mental health services provided by West Alabama Mental Health services for our county.
Do Virtual School students need to purchase supplies from the supply list?
No, however if they change at some point to Traditional, they will need to bring supplies with them the first day.
What will the 1st day of school look like for Pre-K and Kindergarten? Can I walk my child into school?
All staff certainly understand the feelings of our parents of young children and we discussed allowing parents to bring them into class. However, after much discussion, the bottom line is - all of these safe guards, distancing, encouraging masks, etc. is to keep our children healthy and safe. Breaking these new protocals at this time in the COVID Pandemic we fear would be dangerous to their well-being - which is ultimately the most important part of our planning. As such, Kindergarten and Pre-K teachers will be waiting out front for your children.
Will Virtual School lessons be streamed live or will my child access a video recording?
Classroom teachers will tape themselves and post the video for Virtual Students to watch.
Will a Virtual Student have class fees?
This will depend on a case-by-case basis. For example, if the fee covers something like a workbook, graduation expenses, prom fee, then YES, these fees should be paid. If the fee covers something not needed by the Virtual Student, then NO. Please check with individual schools for more specific fee questions.
Does my child have to use the school provided backpack?
Yes, all students must use the school purchased backpack. It is an HP edition backpack with a special, padded compartment for the Chromebook. All students MUST use this backpack and may not bring a 2nd backpack.
What type of water bottle can the students bring?
We prefer clear water bottles be brought to school.
Will temperatures be taken every day? How will classrooms be handled if someone in the class tests positive?
Our school nurse is working with the state to outline these procedures. These will be included in the MCS plan which will be released the week of July 20th.
While masks are not required at this time, we certainly encourage everyone to wear one - especially on buses. This could change before school starts depending on state mandates, so please check this page again for updates.
1st Day of School for Kindergarten - What will this look like?
Plans are being made about Kindergarteners first day of school. Please check back again for updates.
When students get to school, will they go to gym or cafeteria?
When students arrive at school, they will immmediately report to their homeroom/1st period. Breakfast will be delivered to the classrooms.
Will the student be able to use their own laptop?
No, students will need to use the school issued Chromebook. We have purchased licenses for programs that we can not put on a personal laptop. We also have set lessons up with a specific operating system.
Will virtual and tradition school have a separate orientation?
Yes, virtual will be using a totally different platform than traditional. Therefore, there will be a different orientation.
If doing virtual for one semester and traditional school for another semester, how far in advance would parents have to notify the school?
The schools will need a week's notice. Schools will need a day or two notice.
Will students be spaced out on buses?
Buses will have sanitizers and students will be encouraged to wear masks. Students will be spaced apart as far as is possible. It is also encouraged that children living in the same household sit together.
Will the students be changing classes in the high school building or will the teachers move from class to class?
St
udents will move from classroom to classroom. If students all followed the same schedule/classes each day. teachers moving would be a great option. However, one class of 30 students 1st period may switch to 4 different classes for 2nd period. They do not follow the same schedule.
After a case of covid 19 is on the school campus with school close down for cleaning or the sanitizing machines will do the cleaning and class will proceed as usual.
This will also be included on our plan, which is still being developed. We expect to release it the week of July 20th.
How often will the bathrooms be cleaned?
Several times throughout the day.
If the virtual student is struggling to understand the assignments, how will they get help?
There will be virtual tutoring available on Wednesdays from 3:00-5:00 by the home school via phone call.
Will students be spaced 6 feet apart?
Students/desks will be spaced apart as far apart as possible.
Will students be separated by plexiglass
No, plexiglass will not be between each student.
Are uniforms still going to be required?
As of today, 7.7.20, there are no plans to change to uniform policy.
Will students get supply lists this year?
This will be decided next week on a school-by-school basis. We will update this question as soon as we know more.
Can you elaborate more on the virtual school option? Exactly how it will work? I understand that they will get a chrome book but will they be watching the teachers at SWHS or some other teacher? What time will they be doing it online, etc.
The State Department of Education has purchased SchoolsPLP for the Virtual Curriculum. This was just done last week. Central Office is currently undergoing training on this platform. From what we can tell (and this is not definite as much of the program has still not been shown to us), classes will be online and instructional videos will be accessed from the same platform or website. This will not be local teachers conducting the instructional videos. These will be teachers from within the SchoolsPLP framework. As far as the times, as this will probably be self-paced, there may not be a specific time. However, we will know more about this next week.
UPDATE: After training, we found out more information. Local teachers WILL still be in charge of the instruction. As far as class times, this will be decided very soon. We will repost the answers here!
Will there be an orientation or open house this year?
Yes, but it will look very different. This will be conducted either via Zoom meetings or small groups in person. This decision has still not been made.
What steps are being taken to keep our children safe and healthy?
· Student temperatures will be taken periodically.
· In the case that a child has a fever, or any COVID-19 symptoms, he/she will be placed in an isolated room, and will need to be picked up by
his/her legal guardian or emergency contact within an hour.
· Teachers will handle minor issues in the classroom according to guidelines provided by the school nurse.
· Only essential employees will be allowed on campus until further notice.
· Parents will not be permitted beyond the office area until further notice.
· Masks are strongly encouraged, but will not be required and will not be provided to students. UPDATE: Students WILL receive masks from the
school if they so choose to wear them.
· Masks will be provided to employees.
· All individuals will be required to hand sanitize upon entry to buildings.
· All individuals will be required to wash hands after using the restroom (sanitizer is not a substitute for soap and water).
· Six feet social distancing will be strongly encouraged.
· Students need to bring clear water bottles for use during the day. Water bottle fillers will be available to all students and staff.
· School nurses will not test for COVID-19.
· In the case of a student or staff member who tests positive, FERPA and HIPPA laws will be closely followed.
· In the case of a student or staff member who tests positive, schools will provide general information as a precaution, however, contact tracing
will be the responsibility of the Alabama Department of Public Health.
· Classroom teachers will use the sanitizing system provided by the district to spray and disinfect classrooms appropriately two-three times a day.
· Classroom teachers will utilize the district—provided UV lamps to disinfect the rooms at least once each day.
· Custodians will use the disinfecting machines to clean common areas, hallways, restrooms, gyms, faculty lounges, and office areas daily.
Elective Classes, PE, Music, etc. - How will these things look next year?
Details on where students will eat and how elective classes will be held are still being decided. This will all be presented in our MCS Plan as soon as it is completed and approved. However, PE classes will be held outside whenever possible.
Currently, the plan is for meals to be eaten in the classroom.
If my child received Special Services last year, will they be able to receive these Virtually, such as Special Ed?
Yes, your child will still receive special services, but they will be held remotely/virtually via Zoom or some other platform.
Will my child be able to participate in extra curricular activities such as sports if we choose Virtual School?
Yes, your child will absolutely be able to participate in extracurricular activities while enrolled in Marengo County Schools Virtual School.
Can my child change from one type of school to another?
If your child is enrolled in Virtual School, they must continue on this path for one nine weeks at which time he/she may change to Traditional School. However, if your child begins in the Traditional Program and at some point, you decide you are not comfortable with that option, you may enroll them into Virtual School at any time. Just remember that they will be required to stay in the Virtual option for 1 grading period.
This was originally set at one semester, but after careful consideration, we have lowered this amount of time to nine weeks.
What are the differences between Virtual School and Traditional/Blended School?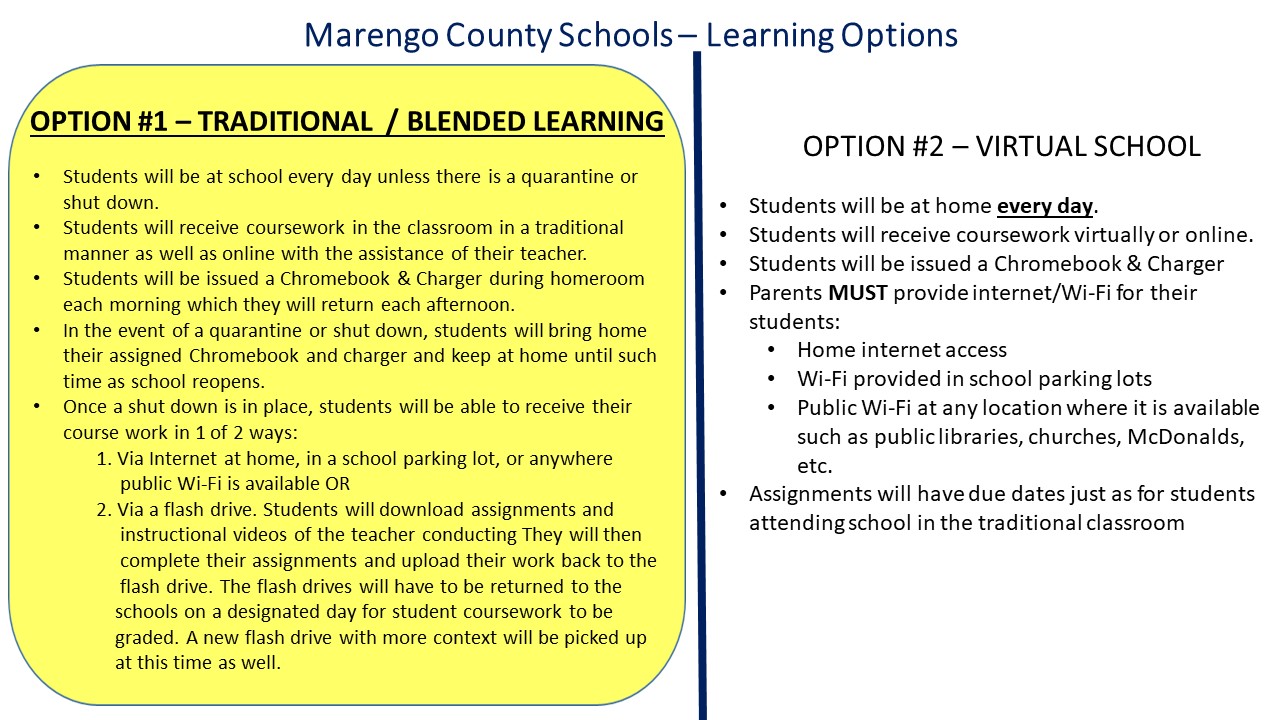 Updates on Internet Access
The Alabama State Department of Education continues to work with state leaders to secure funding and additional opportunities for expansion of broadband infrastructure.
Congressional action last week included the introduction of the following legislation:
Have more questions you would like to see answered? Please email covidqanda@marengo.k12.al.us